Well, I did it. I bought 18 rag throw rugs and stitched them together to make an area rug. The green rug I had before had two problems: it was too small and it blended in with the walls and couch, so the room looked rather boring. I went back to the store I'd bought it at with the intention of spending another $35 for an identical green rug and whip stitching them together. It would still be boring, but the size would be much better.
The rug was about the right size back when we just had the loveseat. But with the big Ektorp sofa it was too small to look right.
Then I saw a pile of colorful rag throw rugs and came up with the idea to make an area rug. I bought 18 of them at $3.99 each. They were really colorful and crazy. I thought maybe they would look too colorful or too crazy. But then I remembered what my bedroom had looked like as a teenager: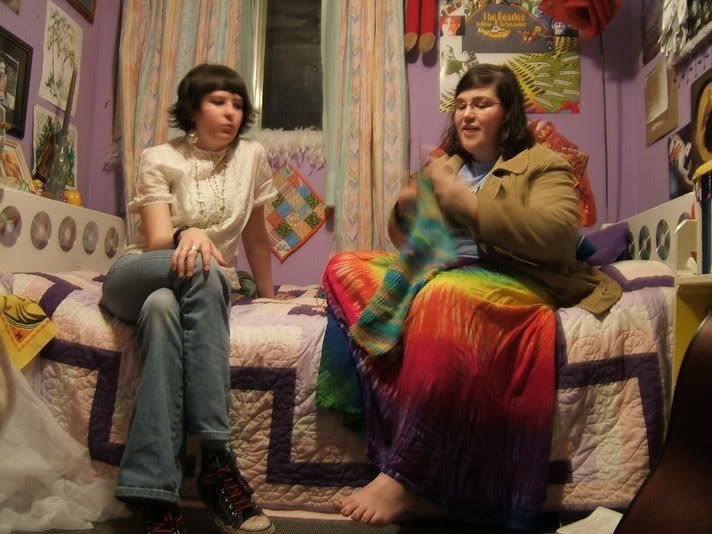 That's me at 18 and a friend, Annie. I absolutely loved my room as a teenager. It was colorful and crazy! If I liked an object, I hung it on my wall. Today, I still love this picture of my old room, and I feel a little sad that my house is so much more boring. You can't see it in the picture above, but in my doorway I had made a curtain out of playing cards. I punched a whole in the top and bottom of each card, then used wire to link them all together in a chain. I made probably 8 chains and hung them in my doorway like a bead curtain. A lot of the art on the walls was done by me or a friend. The rest was random items I'd found or been given.
Now, I do like a slightly different style these days. A bit more "grown up" I guess. I like fewer knick knacks, and more natural colors. But I still love rooms that are colorful, I still love hanging unexpected items on the wall, and I still love using pretty found objects for decor. The walls are still bare in my living room, but slowly I am coming up with ideas of what to hang up. I feel better about the boringness when I remember we've only lived here 6 months, and we're not moving for a while! Really this is the first chance I've had as a married adult to truly decorate, since we've only lived in one place for one to two years at a time until now. We're stuck here for at least five years!
Here's a picture of the rag rug:
I love it for a few reasons. First, it's made out of rags, and you know how I love recycled stuff like that. Also it has that "well-loved, well-worn" wabi-sabi kind of look.
Second, it's an old concept to sew small carpets together to make big ones. It used to be how all area carpeting was made. I love connections to the past like that.
Third, I feel like it's more "me" and that I'm understanding more what my style is now. Obviously as a teenager I had a very defined style, and I want that definition back.
Major items on the to-do list for this room: slipcover the pinky-orange chair to match.
Tidy up the computer wires so they're not as visible, and build a 4' long box shelf to hang above this desk, for pictures and knick knacks.
Build skinny open white bookshelves for either side of this dresser.